Light + Building 2018, the largest trade fair for lighting and building services technology in Europe, officially begins on March 18. For the next six days, 18-23 March, exhibitors at the show will showcase their state-of-the-art products and technologies, whether they are for lighting, communication, building automation, or automotive applications.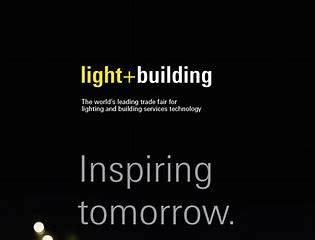 This year, the fair is renewed with a top theme "Connected – Secure – Convenient" covering topics such as smart lighting, human centric lighting, intelligent security, smart urban living and working, energy management, lighting aesthetics.
At Lighting + Building 2018, the exhibitors are going to show to the world how they construct a smart future for humans. A human-light relationship is officially formed.
Philips Lighting will be announcing major changes about the company. Osram and LEDVANCE will also be holding press conferences to sharing their insights on the future of the lighting industry. LG Display will showcase its high-end OLED lighting products, while Sumitomo will display its OLED panel lights in a myriad of colors. They should know the best what are the opportunities and challenges for OLED lighting.
In terms of LED component manufacturers, EVERLIGHT, Epistar, Lumileds, Samsung, and Seoul Semiconductor will be there to showcase refined products that enable healthier and more natural light.
Light and Building 2018 will prove that the lighting industry is about to become vibrant and exciting again after reaching its maturity.