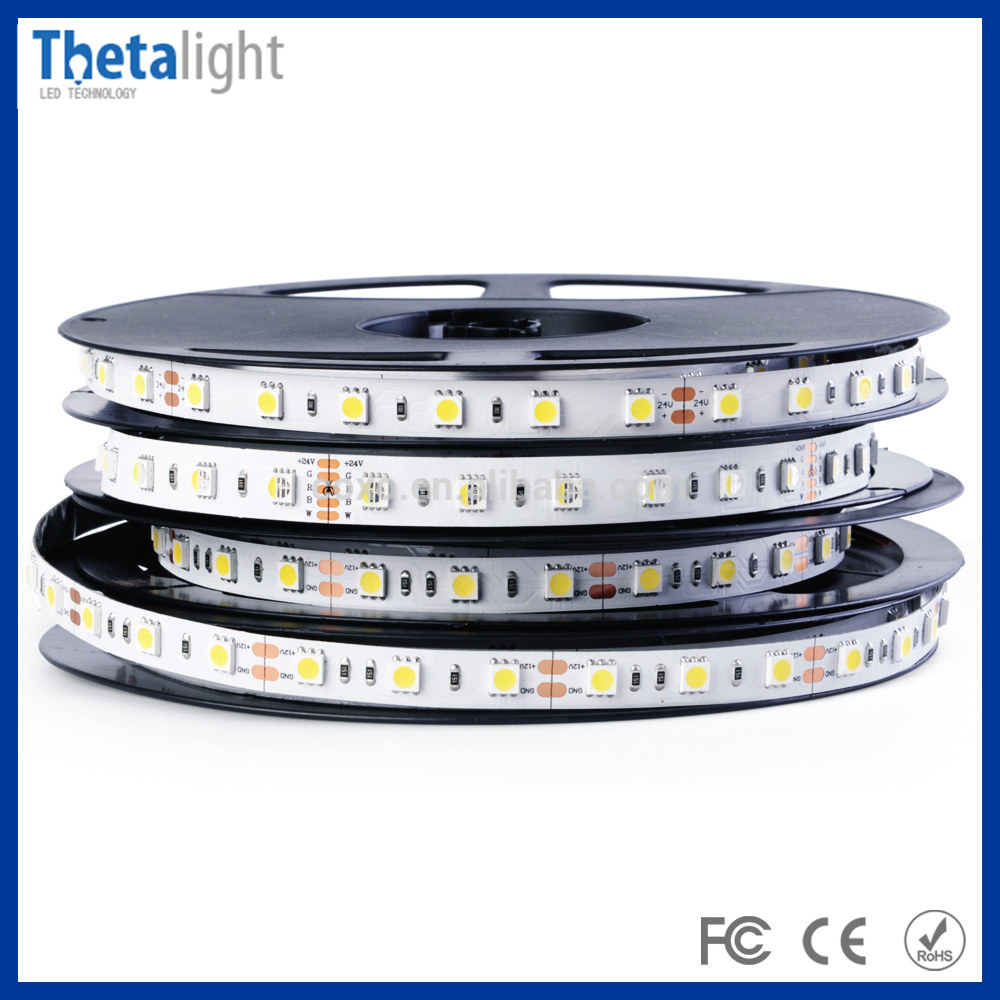 TH-5050RGBW-60 SMD 5050 RGBW Light LED Strip Double Side or 4 in one

TH-5050 RGBW STRIPS
5050-60led
TH-5050W60-V12
White
300pcs/roll
14.4W/m
5000*10mm
SMD 5050
5500-6000K
20-22Lm
TH-5050NW60-V12
Natural White
4000-4300K
20-22Lm
TH-5050WW60-V12
Warm white
3000~3300K
20-22Lm
TH-5050RGBW60-V12

R

G

BW

RGBW
2000-2400MCD
Product Description :

1). Products Name: Led flexible strip light, DC12V Led strip light, AC220V Led strip light, etc.
2). Input voltage (V): 85-265V AC
3). Output Voltage (V): DC12V or DC24V
4). SMD Type:SMD5050RGBW
5). Power Consumption Per Piece: 0.24w for SMD5050
or 0.20w forSMD2835, 0.5W for SMD5730, etc
6). LED Qty per meter: 30 LEDs/m, 60 LEDs/m, 96 LEDs/m, 120 LEDs/m, 240 LEDs/m, others available.
7). Width: , 8mm, 10mm, 12mm width PCB board, White PCB Board or Yellow PCB Board,
Black PCB Board, etc.
8). Color Temperature (CCT): Warm white:2800-3500K, Natural white:4000-5000K, White:6000-7000K,
Cool White: 8000-15000K, other customized color available.
9). Emitting Color: Warm white, Natural white, White, Red, Green, Blue, Yellow, Pink, Purple, RGB.
10). Power per meter: 4.8W/M, 7.68W/M, 9.6W/M, 3.6W/M, 7.2W/M, 14.4W/M, and others
11). Luminous Flux ( Lumens ): 16-18LM/pcs, 18-20LM/pcs,21-23LM/pcs for SMD5050, etc.
12). Waterproof Type: IP20, IP22, IP44, IP54, IP65, IP67, IP68, Non-waterproof, PU glue waterproof or
Epoxy glue waterproof, Better silicon waterproof, Hollow tube waterproof, PVC tube with silicon inside
waterproof
13). LED Chip Brand: Epistar, Brightlux
14). Chip Pcs: 1 chip, 3 chips.
15). Certification: CE-EMC,CE-LVD, RoHS, CCC ,UL, FCC, RoHS, UL, ERP.
16). Drive Current Per Piece: 16mA, 18mA, 20mA, 58mA, 60mA, 62mA, etc,
17). Power Factor: >90%
18). CRI (Ra>):80 Ra, others available.
19). Operating Temperature (°C): 40 to +50 degree Celsius
20). Life-span (Hour): 30000 ~ 50000
21). Lamp Body Material: Copper
22). Place of Origin: Shenzhen, China (Mainland)
23). Brand Name:THETA Lighting
24). Model Number: KU-3528-5050-60D, many different type of models, please refer to our pricelist
25). Warranty: 1,2 and 3 years and 5 years
26). Beam Angle: 120 degree
27). Packaging Details: 1 meter/roll, 3 meters/roll, 5 meters/roll, 10 meters/roll, 40 meters/roll, etc,
28). Standard export package.
29). Light Decay: less than 3% after 1000 hours constant work
30). PCB Board Color: White or Yellow (Brown)
31). Layer thickness: single pcb board, double pcb board.
Product features :

1). Low power consumption. High luminous
2). Every 3 LEDs can be cut with the marks, then re-join, "+,-"
3). Operating temperature: -40 to +50 degree Celsius
4). Match Power supplyer adapter, RGB Controller, Connector,
5). Low power consumption
6). Lower heating during operation
7). Continuous length with the quick connector
8). Reel peaking and strong adhesive back, 3M glue tape sticked attached, easy installation,
9). Cuttable every three LEDs to provide convenient installation with lesser illumination costs
10). Major reduction in power costs, low power consumption and high intensity.
4). Application :
Flexible enough to be bent in any angle, when installation in the following different places.
1). Architecture or home decoration.
2). Light boxes and billboards backlighting
3). Channel letters backlighting
4). Advertising signs backlighting
5). Home lighting, home decoration
6). Holiday decoration lighting
7). Archway, canopy and bridge edge lighting.
8). Stairway accent lighting
9). Emergency hallway lighting
10). Auditorium walkway lighting
11). Amusement park, theatre mood lighting
12). Backlighting for advertisement board or signage letters.
13). Concealed Lighting.
14). Cove lighting.
15). Car decorative lighting
16). Backsides lighting